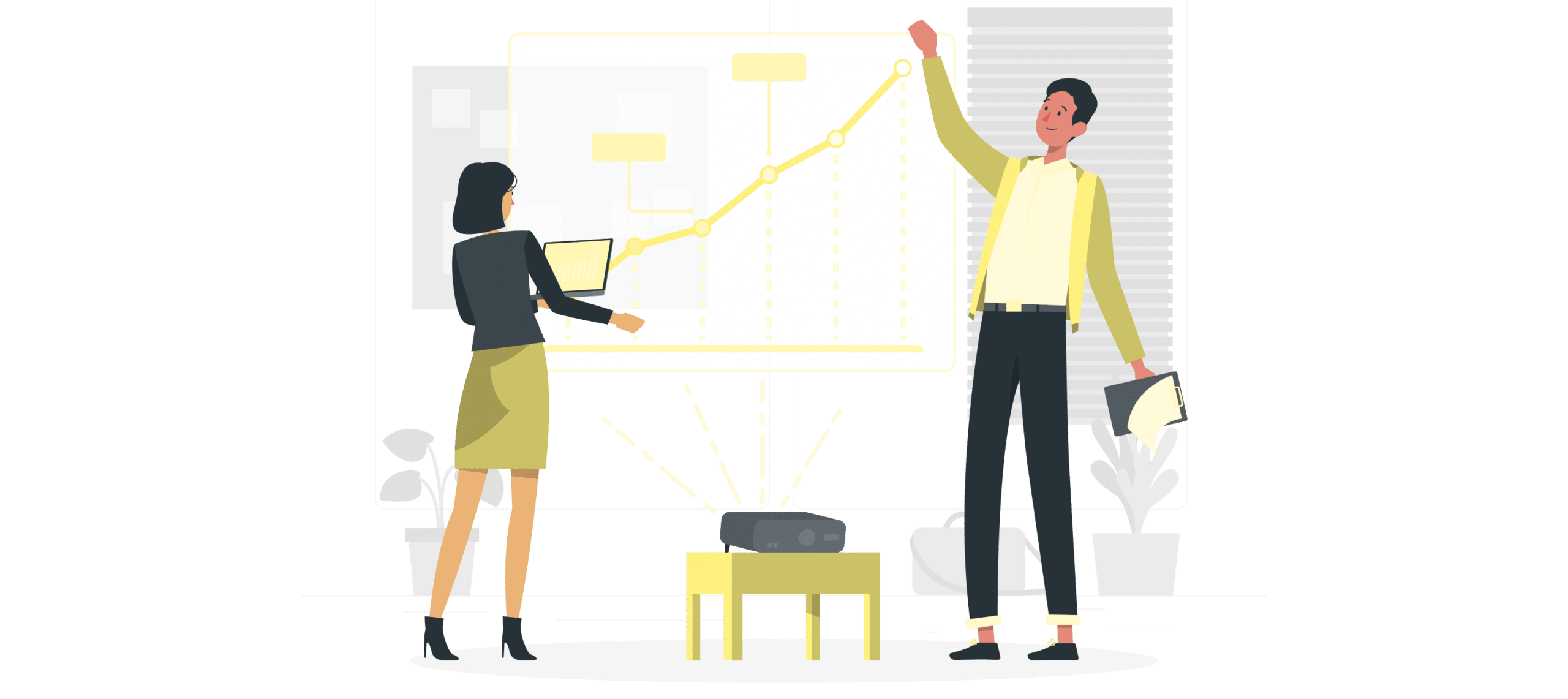 How To Build an Email List in 2022
How To Build an Email List in 2022
Having an email list is crucial to succeeding in email marketing. Many marketers strive to build an email list for their unquestionable potential. The more email addresses you collect, the more people can receive your message directly and eventually convert or make a purchase.
Behind every good email list is a strategy. In this article, you'll learn about the most effective strategies to build and grow your email list. Learn more about the best email marketing strategies.
What is an email list?
An email list is essentially a database of individual email addresses with other data about your subscribers, such as name, gender, address, etc., that were voluntarily provided to your business by people who gave their permission to receive your emails.
What is email list building?
Email list building is simply the process of obtaining email addresses from your website visitors by submitting email sign-up forms. 
Why is it important to build an email list?
You could look at your email list the same way you do your social media followers. However, an email list can be much more personalised and customised to the needs of your subscribers, and the chance of seeing your offer in their email inbox is also higher. Email is also the most direct way to communicate with subscribers or customers.
Email marketing has the potential to generate €37 on every euro spent, making it a marketing channel with the highest return on investment of all the channels. Such a high ROI is practically unachievable with any other marketing channel. 
There are also opportunities to divide your email list into several segments based on subscribers' preferences or behaviours. Via email segmentation and personalisation, you can send more personalised and targeted campaigns that lead to more conversions. 
Once you build your email list, it will also be easy to track email opens, clicks and conversions so that you can report on your marketing progress with these statistics available to you.
How to build an email list – strategies for 2022
The following chapters will go through the most effective list-building strategies you should use in 2022. All the strategies mentioned on this list are completely free.
1. Evaluate your strategy
The first step to building and growing your email list is to evaluate the strategy and results. Identify why people do not sign up to your emails and what you can do to increase the number of subscribers.
How many new subscribers do I get daily, weekly and monthly? 

How accessible is the sign-up form?

Is there a real reason to subscribe?

How much

 information

 do you require from people to sign up?
These are a few examples of questions you can ask yourself when evaluating your current strategy. Once you answer them, it will give you a better idea of where you currently stand with your email list building efforts. Most importantly, you should focus on whether it delivers the desired results and what you expect from your email list.
2. Have an email sign up banner
If you want to build your email marketing list, having a sign-up form is essential. It is important to keep in mind that the sign-up form must be visible and easily accessible. You should make it as easy as possible for your visitors to sign up. The fewer steps you add to the customer journey, the more likely you will gain new subscribers.
The sign-up banner should be visible on every page of your website to always present your visitors with the opportunity to subscribe to your emails.
You can use a banner on your website as follows:
Banner at the top of the page
This is one of the most common spaces to place your banner. It is easily visible and does not take any extra space on your website. This banner remains visible even when scrolling a page.
Sidebar
Just as a banner at the top of the page, the side of a page is a visible and effective space. The disadvantage might be that it takes more space on the website and might worsen the user experience. However, if your website uses sidebars to convey different messages, this might be the right solution.
Bottom of the page
Having a banner at the bottom of the page is less visible than the first two, but if a visitor reaches the bottom of your page, it signals that they are interested in your content, and the chance of signing up might increase.
Blog dedicated
If you have a blog, you can use blog dedicated email sign-up. Give your visitors an option to sign-up to receive similar content or get notifications when another blog post is published.
Circulator helps its clients during the process and ensures that all sign-up forms are GDPR compliant.

Source: (Blogging Wizard)
3. Use incentives
When thinking about growing your email list, you should think the same way your customers or visitors do. Website visitors generally do not give you their contact information for no reason. They would do so if they got something back. Therefore you should always think first of providing value. If you choose this approach rather than just trying to sell something, it will generate better results in the long run.
The better incentives you provide, the higher chance you have of growing your email list. Your incentives can be anything; there are no limits. Be as creative as possible if there's something you have to offer. 
Here are a few examples:
Discount coupons
The first one to mention when talking about incentives is offering discount coupons. This is perhaps the most popular incentive. People always search for discounts, and if you put them right in front of them, it will likely increase the chance of signing up for your email.
Besides improving email subscriptions, you can use this strategy to convert visitors into buyers and subsequently loyal customers.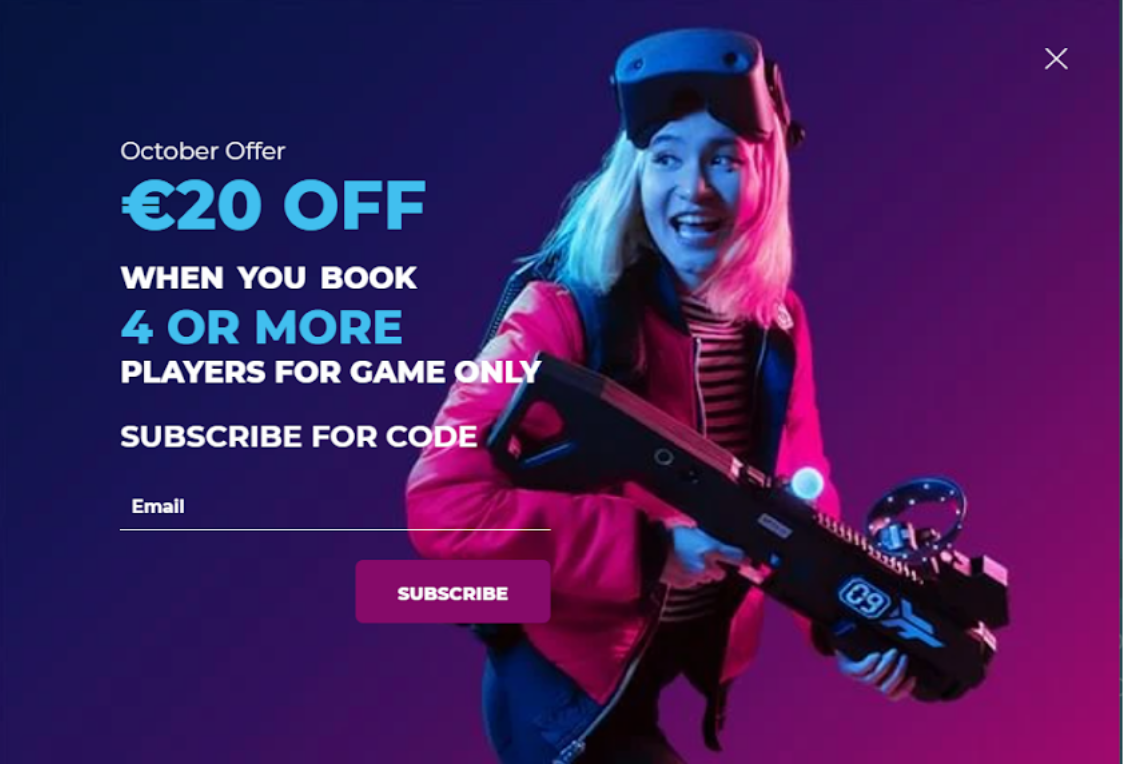 Source: (Zero Latency)
Prizes
You can offer a prize or a chance to be selected to win something. It does not cost your visitors anything except providing an email address, and they get a chance to get a great value out of it.
Downloadable documents
Offering downloadable documents is a quite common tactic to grow an email list. For instance, it is widely used by real estate agents (offering a list of properties in specific locations) or marketers providing various services or courses (download a free SEO checklist/email templates). 
Customised content sent by email
If you are a publisher or release news about specific topics, you can offer your visitors customised content sent by email. This way, you can provide value without making any extra effort. Your subscribers will be notified every time a piece of content they might be interested in is published. 
You can use preference centres to let your subscribers choose what emails they want to receive and deliver exactly what they want. This way, you do not only increase the number of subscribers but also retain them. 
Most popular content
If you have a piece of content that you know is very popular among people, you can take advantage of it. If people are eager to get the information you are offering, you can exchange it for an email subscription.
When considering using this option, keep in mind that you need to provide valuable information not to disappoint the people who were willing to give you their contact information with low-quality content.
A good example would be publishers writing about business and stocks. Every investor wants to know what stocks to invest in, and if you have good insights into this topic, then you can capitalise on it. You should use this tactic when you're a credible publisher, and people trust your opinions.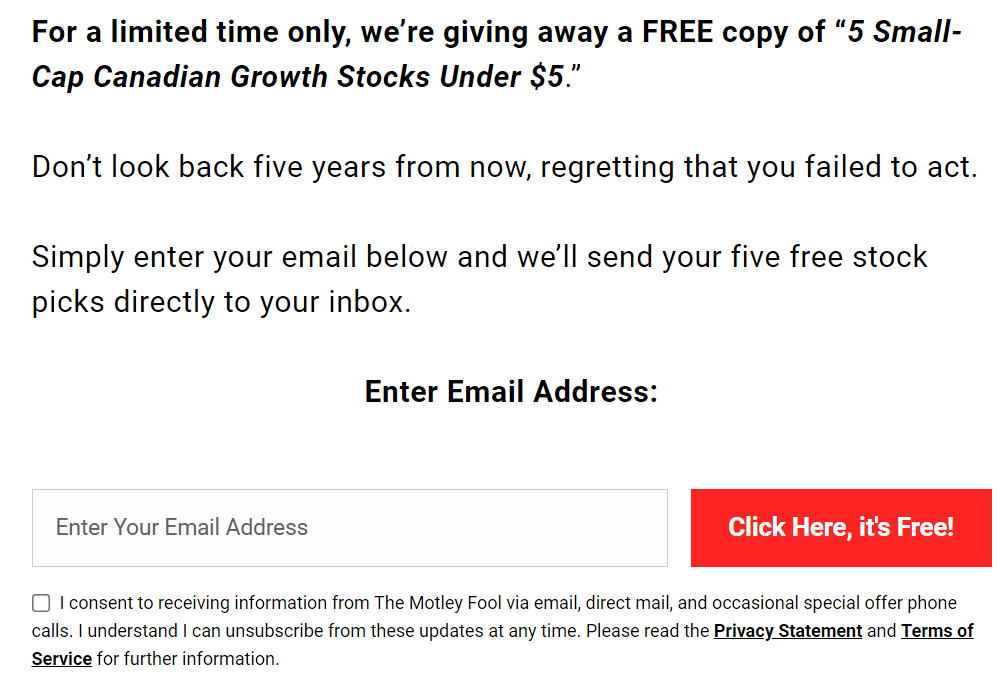 Source: (Motley Fool)

4. Have a pop-up for email sign-up
An email pop-up is one of the most effective methods when you strive to build your email list. Pop-ups simply attract attention, which is their most significant advantage. You can guide your visitor from any page to exactly where you want them. That is very often an email subscription. 
Pop-ups are considered a more aggressive method than having a CTA button, but they are proven to drive conversions. They can be over 1300% more effective than sidebars. So you should consider this method. 
It is important to clearly communicate your incentives in your pop-ups and offer visitors great value. Otherwise, they will be just annoyed by your advertisement, and it will worsen the user experience overall. Eventually, your visitors might leave the site. Having a popup without a great offer might negatively affect your website performance. Therefore, you should be careful when it comes to pop-ups. They can be very effective, but only when implemented properly. Always think of delivering value and being relevant first, then you can start selling. Also, make it easy for visitors to close the pop-up.
You can also consider having an exit pop-up that appears when a visitor is trying to leave without taking any action (purchase or subscribing). According to Beeketing, up to 35% of lost visitors can be saved with an exit-intent offer.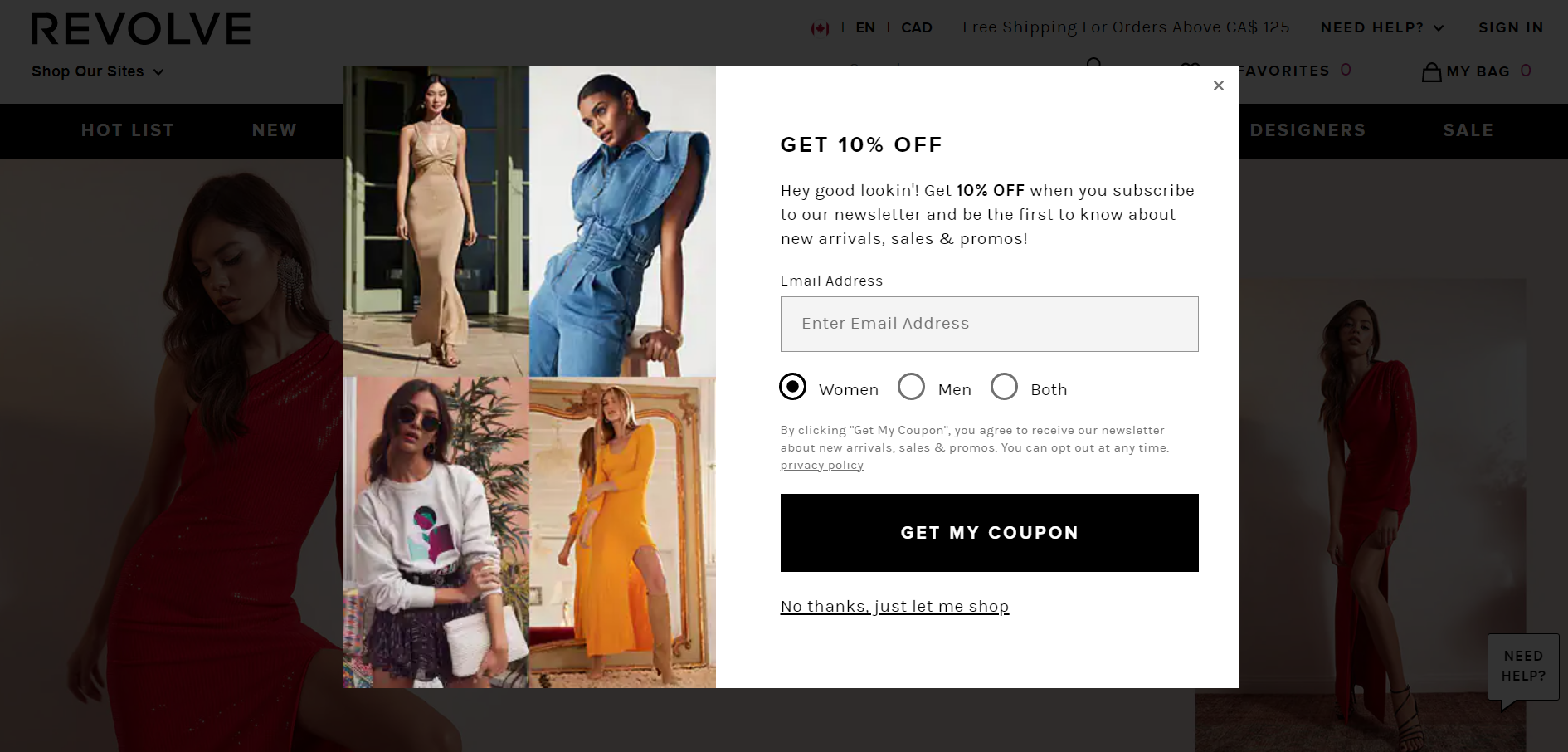 Source: (Revolve)

5. Create a high converting landing page
If you're sending traffic to your specific web pages from other sources (social media, PPC campaigns) to drive subscriptions, you should create a high converting landing page. Design the page in a simple way and get straight to the point.
The landing page should convey the essential information and have a related CTA to guide visitors to take action. Also, mention your incentive, as you need to give your visitors a good reason to subscribe.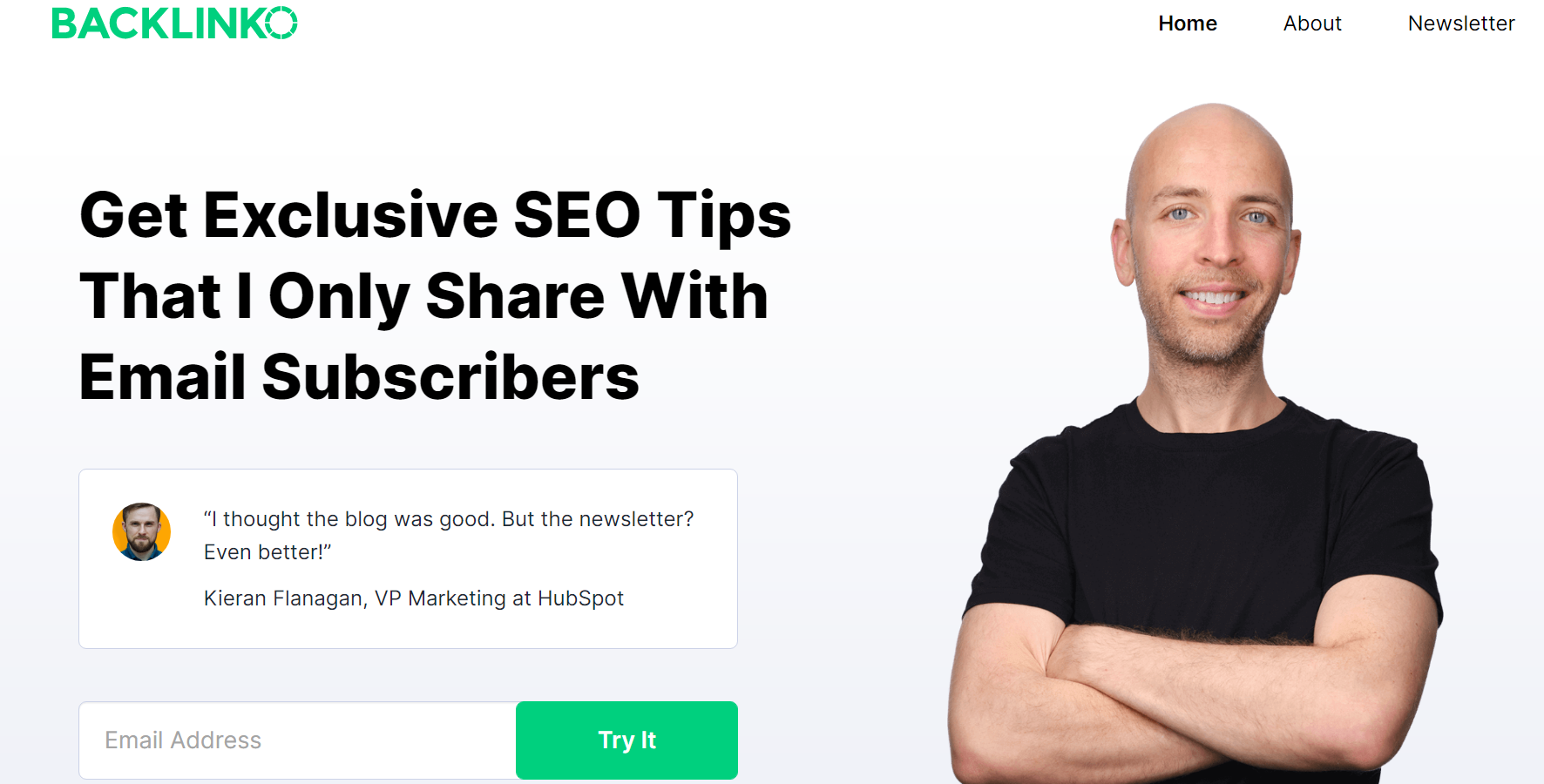 Source: (Backlinko)
6. Use social media to drive subscriptions
Social media works very well when combined with email marketing. Social media often works as the first point of contact and can generate leads for email marketing to convert these leads into customers. There are several ways to use social media to grow your email list. 
CTA in your social media bios
This method can be used across all your social media channels. It is simple and effective.
Header image
Advertise your incentive in the header image. It is one of the most visible places on your social media page. Communicate the message clearly, and you'll likely see positive results, especially if your social media pages receive a lot of traffic.
Share content giveaways and contests
Social media channels are principally used to inform about company updates, share valuable content and entertain followers. Nevertheless, you can also post on social media to drive subscriptions and grow your list. This has become a prevalent tactic, and many companies have successfully implemented it.
As mentioned above, you need a great offer and something that will attract people's attention. You can post contests or offer a giveaway. In combination with a good landing page, it could be a strong tactic.
Facebook sign-up button
There's a dedicated CTA button on every Facebook page that can be customised according to your needs. It can guide your followers to download an app, visit a website, or sign up for an email newsletter. If building an email list is your priority, use this option for email sign-ups. It is one of the most visible spaces on your Facebook page.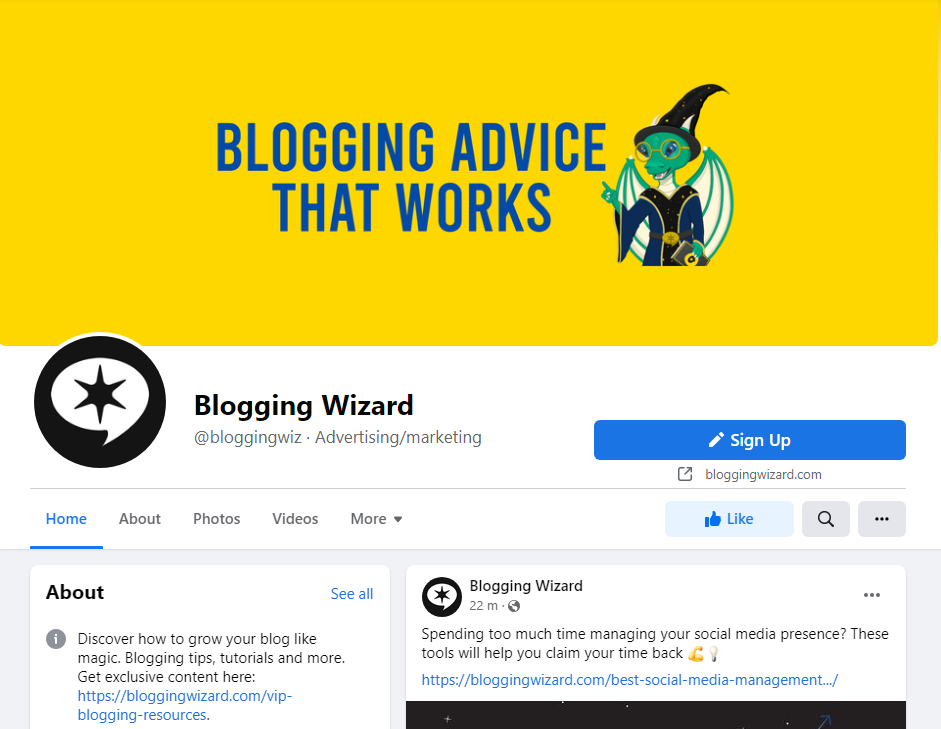 Source: (Blogging Wizzard)
7. Referrals
Referrals are one of the most effective methods to build an email list with the help of your current subscribers and customers. People have generally much higher trust in what their friends or other people recommend to them than businesses. But how can you make this work for your business? 
Again, people will not recommend you for no reason. However, you would need to create incentives for both your customers and your potential subscribers in this case. It can be, for example, offering an upgrade for your current customers and a discount for new subscribers.

Source: (Wise)
8. Use a contact form to improve subscriptions
There is an advantage of having a contact form when it comes to email marketing. Users are most engaged when they decide to use a contact form on your website. If a user signs up to your email newsletter using a contact form, you will likely gain a high-quality lead interested in your product or service. That is why you should use opt-in in your contact forms.
When sending the contact form, the users will be given the option to sign up for marketing emails. It can also be just consent to marketing emails, that way, you will collect even more email addresses, but you can also have people who are not interested in your marketing emails on your list. Either way, using contact forms will benefit your list building efforts.
9. Free trial
A free trial is a powerful tool to gain new subscribers and give people the opportunity to learn more about your product or service. If you sell a software or provide some form of entertainment on the internet, this could be the right method to use.
10. Quiz
The last strategy is a bit specific, but if you have quizzes on your website and strive to build your list, do not hesitate to use them. People can either sign-up to obtain the results or to receive notifications when similar quizzes are available.
How to retain your subscribers?
Once you implement list building strategies, your email list will be likely constantly growing. However, it is not the final step of the process. It is also crucial to retain the acquired subscribers.
Below you can find several tips for subscriber retention:
Use link labelling to monitor subscribers' behaviour and interest

Segment your email list by using preference centres and link labelling

Send personalised/customised emails and provide additional value to your subscribers

Send emails at the right time

Retarget your subscribers based on their action

Implement A/B testing to find the best performing campaign

Avoid the spam filter – don't use: large images, spam trigger words, prominent calls to action, clickbait subject lines
Do not buy email lists
Buying an email list may seem to be the simplest and fastest way to grow the number of subscribers, and many people have attempted it. But buying an email list may be expensive and likely will not bring you the desired results. Here is why:
The people on a purchased list are not your target customers and likely will not be interested in anything you are selling. They never permitted you to be contacted, and if they start receiving emails from you, they will likely report your emails as spam. 
It is always important to stay relevant to your subscribers and offer them what they are looking for or solve their problems. You will not achieve this with a purchased list. Above all, buying email lists can be illegal and is against GDPR rules.
Therefore, we recommend relying on proven strategies and organic growth.
Summed up
Building an email list can be essential for your business. You can try any of the strategies from our list and see how they impact your business. Just as everything in email marketing, even list building requires effort and patience. However, following the best practices will be rewarded with valuable leads and potentially more customers.
Circulator works with its clients to develop an effective list building strategy. Learn more about how we help our clients. Please contact us for guidance and assistance with your email list building strategy or other email marketing matters.
Visit our blog for more email marketing tips.