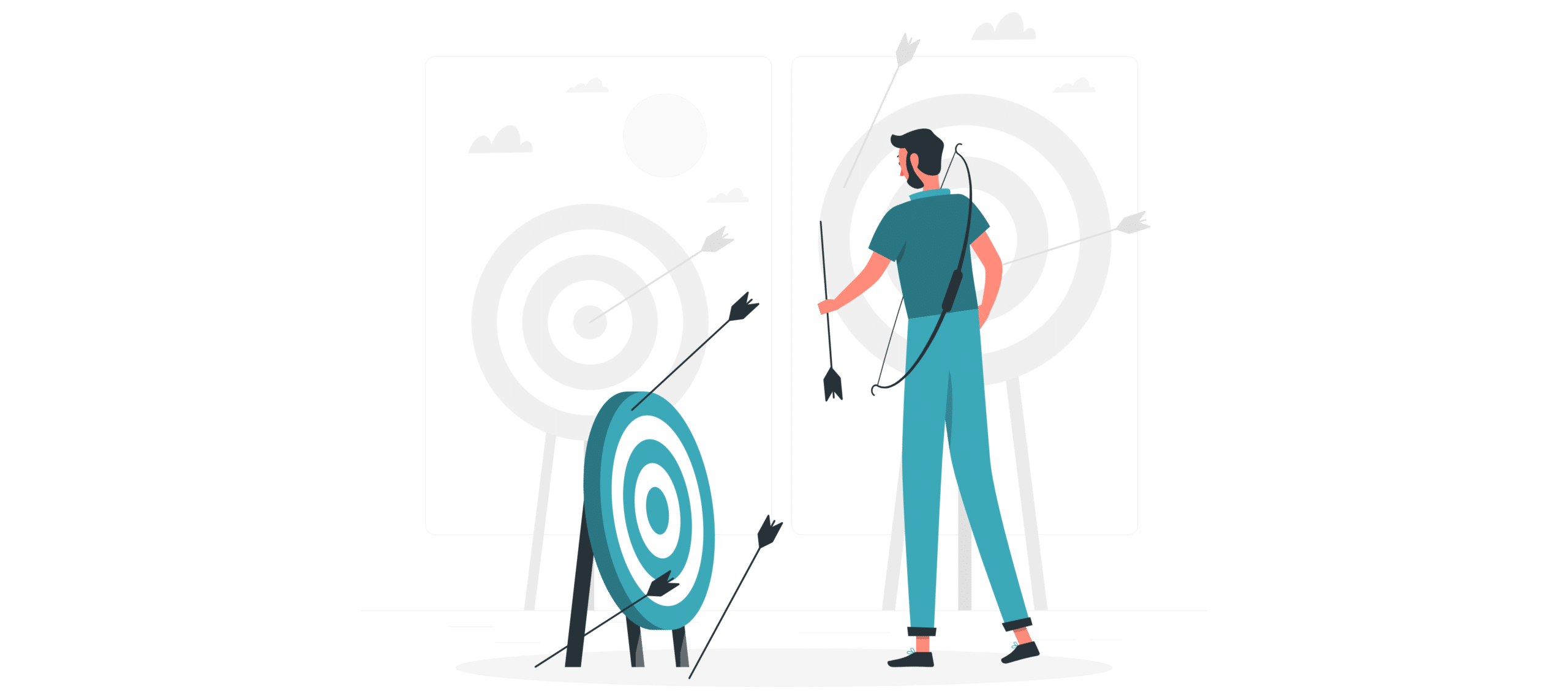 Email Retargeting Best Strategies and How to Use Them
Email Retargeting Best Strategies and How to Use Them
Email marketing is still a powerful tool in 2022 to drive more conversions and sales for your business.  In fact, 99% of users check their inbox every day, with some checking it 20 times a day. Therefore, email is a perfect way to reach your potential customers (Optinmonster, 2021). In this article, we'll go through the most powerful email retargeting strategies in detail.
If you follow the best email marketing practices, you can increase your open rates, conversion rates and, most importantly, sales. Email retargeting is one of the most powerful tactics when it comes to email marketing and can improve the efficiency of your campaigns.
What is Email retargeting?
Email retargeting (or email remarketing) is a tactic that helps you reintroduce your product to a specific segment of your subscribers or reengage with people who have already expressed interest or interacted with your business. Or, on the contrary, people who are subscribers but do not engage with your campaigns. This topic is closely related to email segmentation.
Retargeting can also be used in different aspects of digital marketing. It is widely used for pay per click and paid social campaigns using tracking pixels.
Types of people to retarget:
Regular customers
People who are your subscribers and actively purchasing your products or services
Inactive customers
Subscribers who purchased one or a few times but not actively engaging with your campaigns
Cart abandoners
People who added your products to the shopping cart but never completed the purchase (these retargeting campaigns are generally very effective)
Subscribers that never bought
People who subscribed to your newsletter but never initiated or completed a purchase
How it works
Email retargeting works with the data and information that has been collected about your customers or subscribers using the browser cookies. It can record visitors' activity on your website (clicks, purchases, bounces), or tracking pixels can be embedded into the HTML of the email to record the activity of recipients (email opens, clicks). That gives you a lot of different segments and data that you can use for your retargeting campaigns. Email retargeting works hand to hand with email automation, which allows you to automate your campaigns based on your subscribers' behaviour and saves you time and money.
You can also create the most relevant and highly targeted campaigns to send the right message to the right people with mail retargeting. Subscribers want to see relevant content that is customised just for them; then, the emails are more likely to be opened and clicked on. That is the most significant advantage of email retargeting.
Best Email Retargeting Strategies
Adequately executed email retargeting can bring you great results. Below you can find the best email retargeting practices.
Use email automation
As mentioned above, email automation is an effective email marketing tool that is extremely helpful for retargeting campaigns. You can follow up abandoned shopping carts, show pop-ups based on users' behaviour or engage with active visitors. Emails can be sent based on various behavioural triggers. With email automation, you don't miss any opportunity to reengage with your audience.
Try Circulator's journey builder, our tool to make your email automation simple.
Utilise email segmentation
Relevancy is key in order to launch and manage a successful retargeting campaign. It is important to divide your subscriber base into smaller, more detailed segments and target only the people you have specific information about, those that are suitable for your particular campaigns. You want to be sending different retargeting emails to people who are loyal customers than inactive subscribers. You might also set different goals and frequencies of communication with each segment.
Be specific
Once you have your segmented audience, give your subscribers a specific action to complete and go straight to the point. Retargeting emails are often triggered by subscribers' activity, so you already know their intentions. Therefore it might be easier to retarget them with a customised message.
Act fast
Time matters. Reacting fast gives you a competitive edge over your competitors. You should send a follow-up email shortly after your subscriber interacts with your website, email or ad. If you act fast, you might avoid customers forgetting your brand or not completing an action (purchase, policy renewal, etc). Email automation can also be beneficial here. If you automate your campaigns based on behavioural triggers, you can reach your audience immediately and capitalise on more opportunities.
Types of retargeting campaigns
Cart abandonment
Cart abandonment emails are a valuable retargeting tactic in the retail industry. They are automated messages sent every time a visitor adds items to a cart but does not complete the purchase. The average cart abandonment rate across all industries is 69.57%. (Sleeknote, 2021).
You can reconnect with all your cart abandoners with a simple follow-up email and provide shoppers with a quick and easy way to complete the purchase. These emails are very effective, generally have higher open and click-through rates and often lead to a completion of the purchase as you are reengaging with people who have already expressed interest in your products. These campaigns can also be automated to focus on a specific product that the customer is interested in.
The reasons for shoppers to abandon the shopping cart could be high shipping costs, comparing prices, the high price of the product, or simply saving it for later and forgetting it.
Circulator's customers generally see a 10% increase in open rates with cart abandonment retargeting campaigns. Learn more about the communication we love.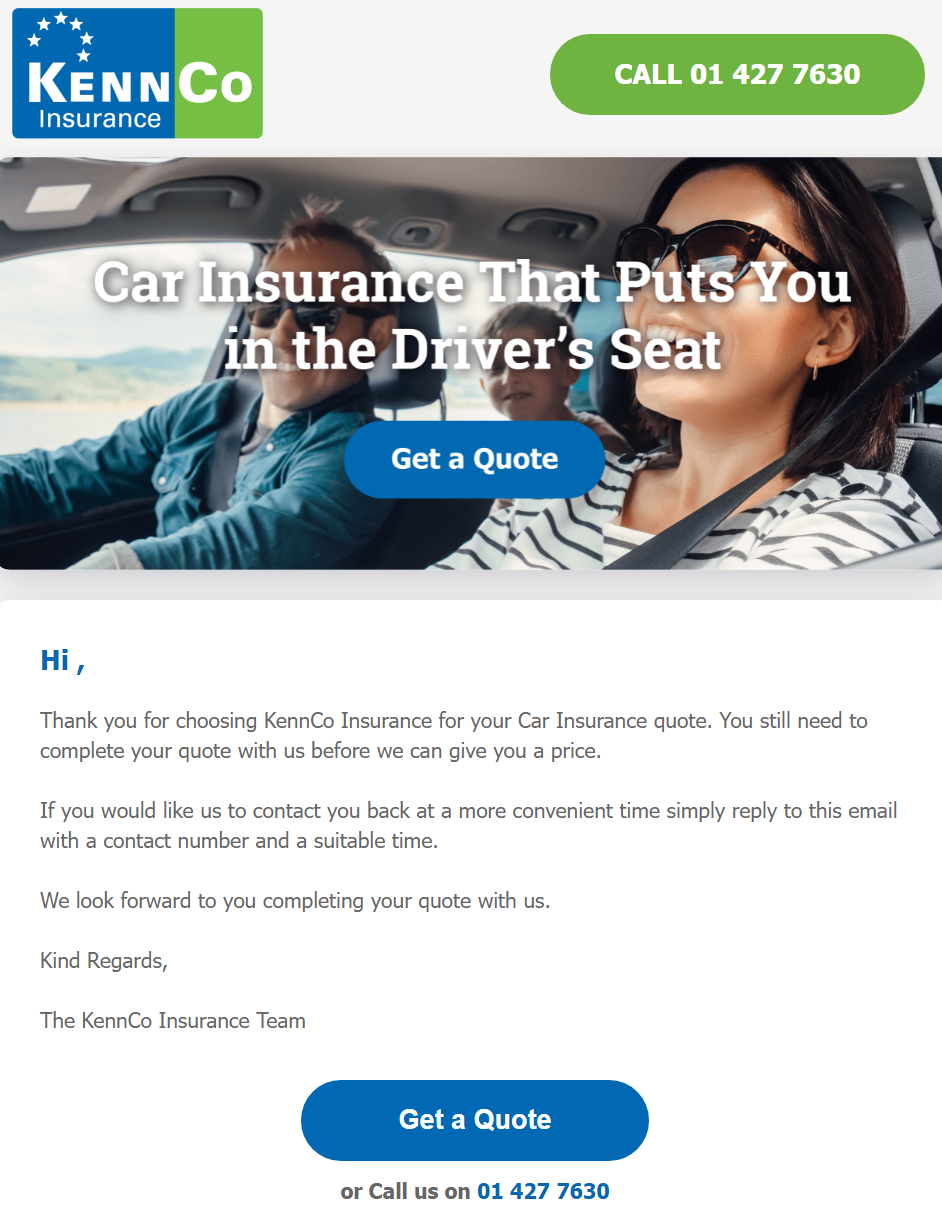 Source: (KennCo)
Renewal reminders
Renewal reminder emails are typically used by insurance brokers or any other business using a subscription service. Automated emails are sent once the expiry date of the subscription or trial approaches. These emails help to remind your customers of your brand, and you can avoid losing any customers.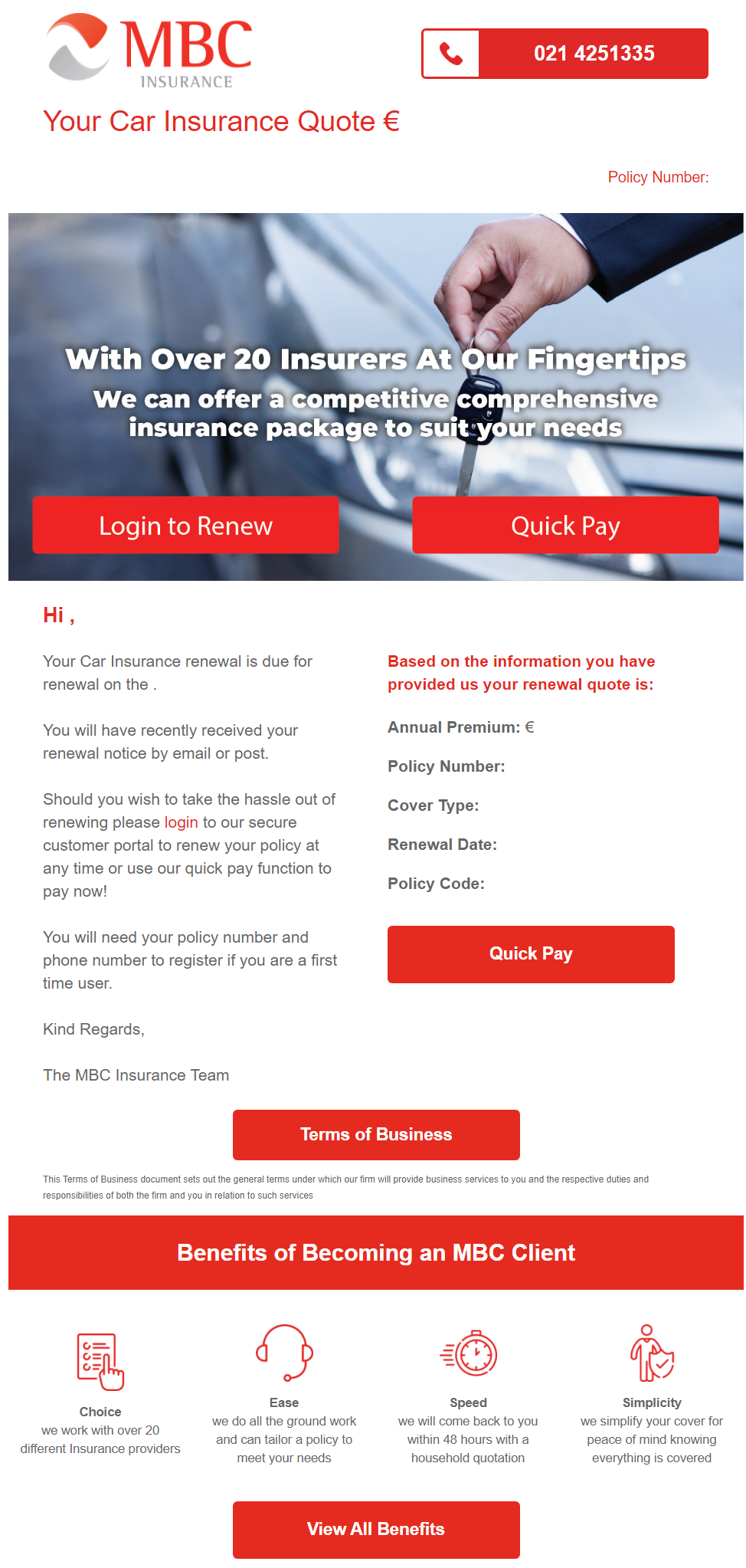 Source: (MBC Insurance)
Cross-selling / Up-selling campaigns
Retargeting is also useful for cross-selling and up-selling campaigns. Here you want to target people who have previously completed a purchase, and your goal is to sell them more or more expensive products. For upsell campaigns, it could be an upgrade of a product that has been previously bought. For cross-sell campaigns, you can send emails offering additional items related to the particular purchased product.
Cross-selling: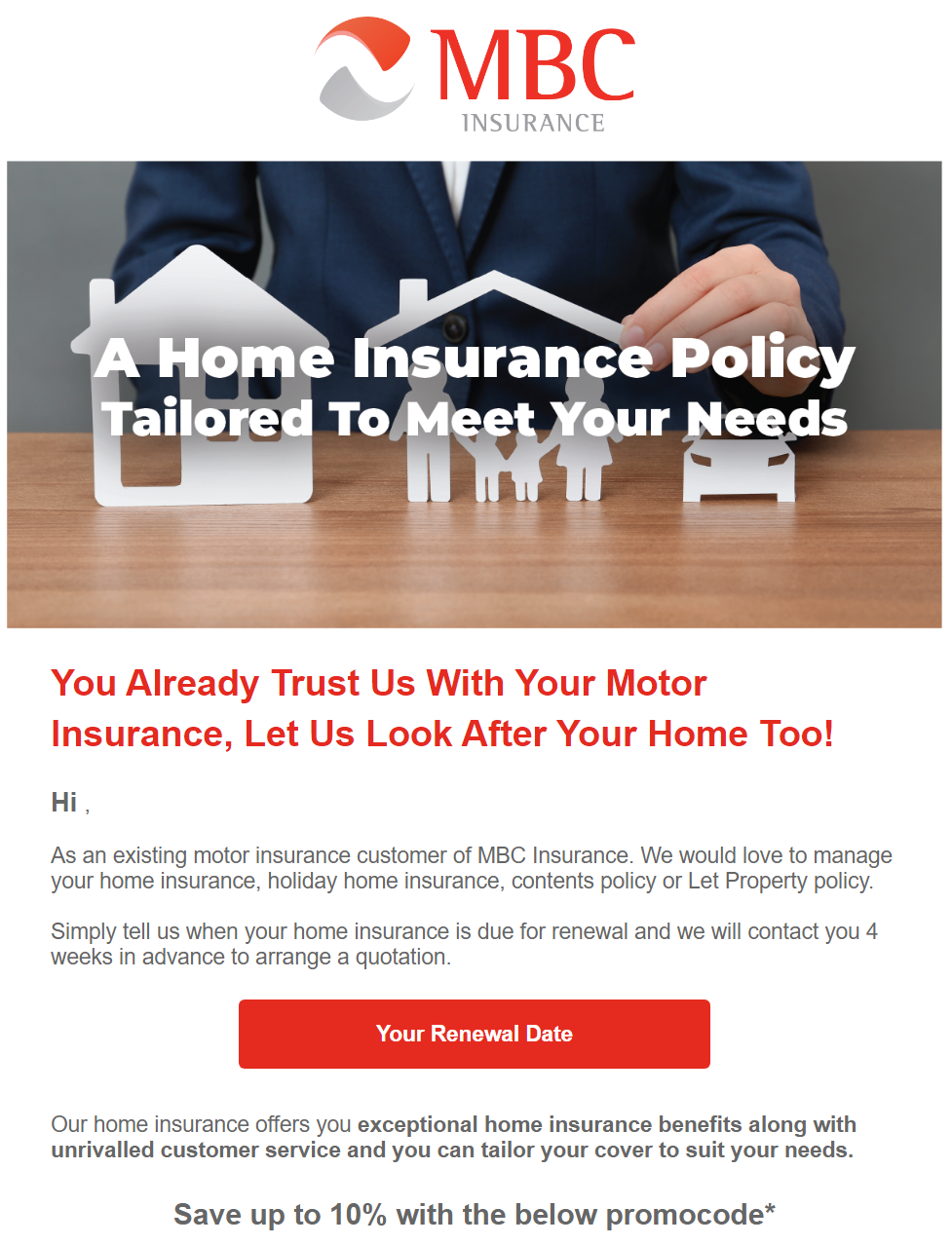 Source: (MBC Insurance)
Upselling: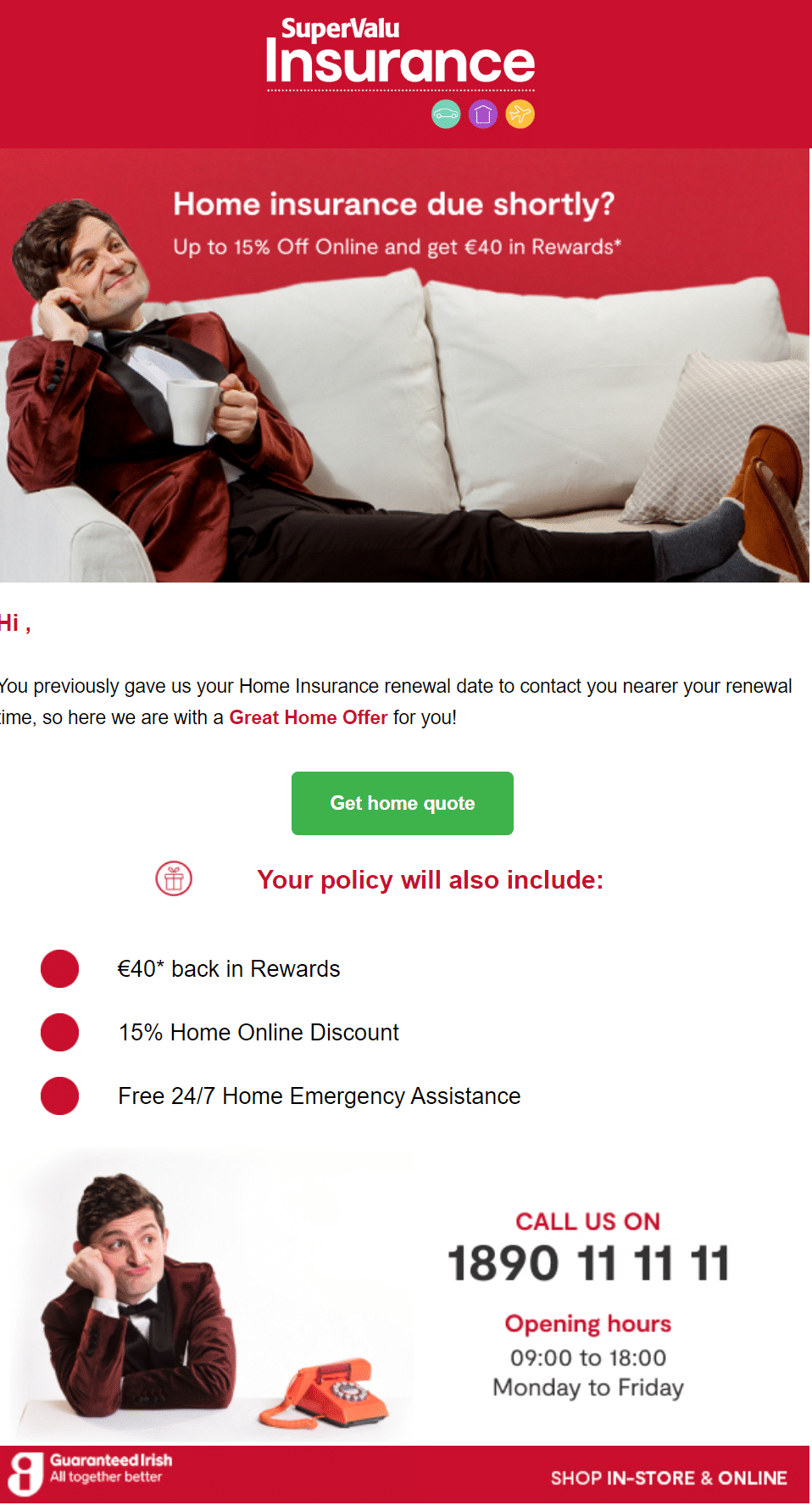 Source: (SuperValu)
Re-engagement emails
Re-engagement emails are supposed to target inactive subscribers that you have collected a certain amount of data about, and therefore, you can analyse their behaviour.
Your inactive subscribers do not necessarily have to be lost. They once interacted with your business, and trying to reengage with them might be a more effortless and cheaper solution than attempting to acquire new ones.
Back in stock emails
It might happen that sometimes the products customers are looking for are out of stock, and you will not get any conversion. If you're using tracking pixels and the customers' activity on your website is monitored, you can let them know once the item is back in stock and available again. This effective retargeting strategy could drive extra sales for your business.
Replenishment emails
Replenishment emails target customers who have already purchased one of your products. The objective of these campaigns is to induce customers to repeat their purchases. These emails are generally used for one-time use items, consumer goods or items that do not last long and need to be replenished.
A good example could be fitness supplements or any other item that can be consumed, and its volume is limited. You can calculate and assume when your customers are about to run and a few weeks after purchase, send a reminder to order again.
Circulator's digital communication platform offers advanced email retargeting options customised for your business.
At Circulator, we are experts in email marketing. If you need help with your email retargeting strategy, please contact us directly.
Visit our blog for more email marketing tips.