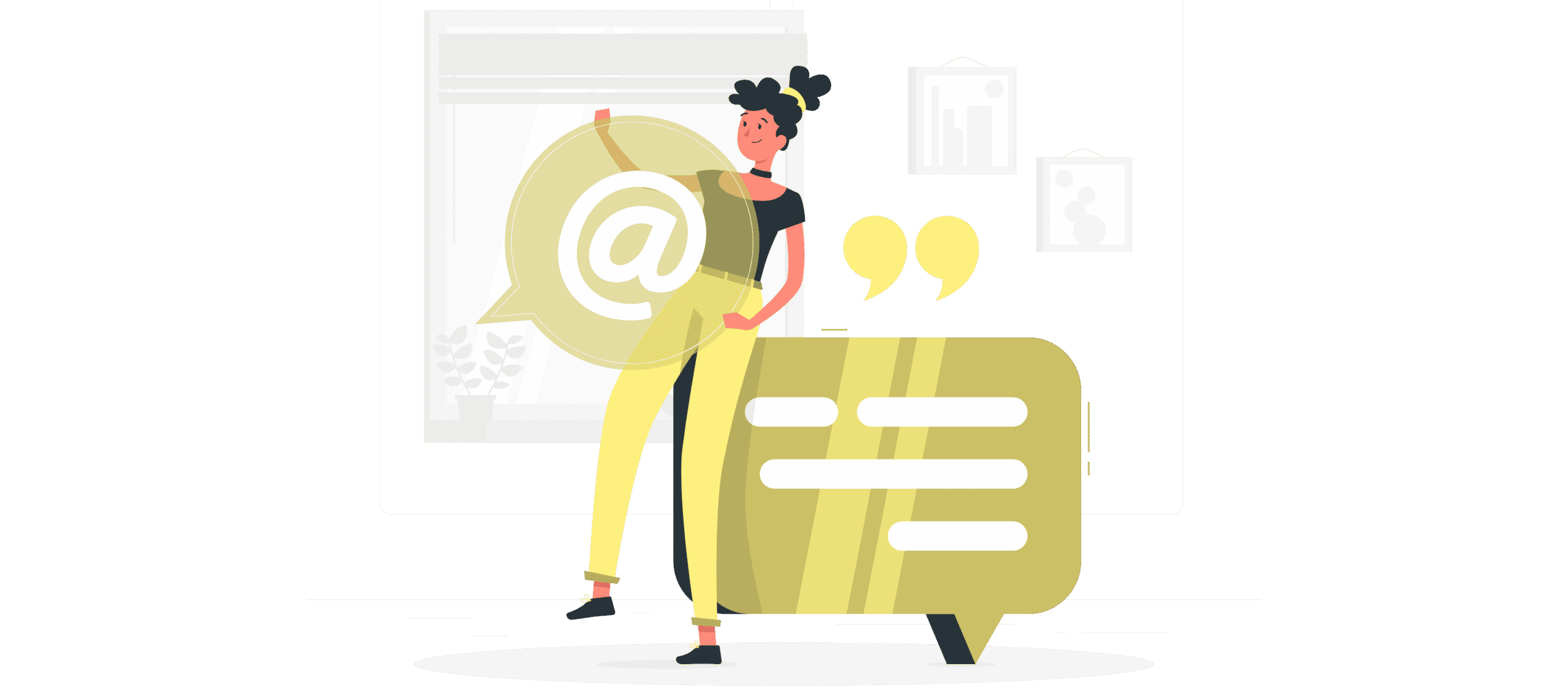 6 Email Personalisation Strategies To Grow Your Business
6 Email Personalisation Strategies To Grow Your Business
Email personalisation has become a frequently discussed topic in the email marketing world and is one of the best email practices.
Email marketing is getting more competitive, and experts agree on the importance and benefits of using email personalisation as personalised emails can increase sales on average by 20%.
In this article, we'll go through the most important email personalisation strategies and how to use them.
What is email personalisation?
Email personalisation is about using the information collected about your subscribers to send more relevant content and offers. 74% of marketers said that targeted, personalised emails increased customer engagement rates.
Email personalisation works with data and goes way beyond addressing customers by their name. There is much more. Learn about it in the following chapters.
Information to collect
The more information you collect about your subscribers, the better offers you can send them. In addition to the standard and commonly gathered information such as email and name, you can collect any other information useful to your business. This information must be provided voluntarily by your subscribers. Below are a few examples of what data you can collect.
1) Demographic information
Demographic information such as date of birth, gender or location provides you with basic but essential identification of your subscribers.
Date of birth
Collecting information about the date of birth gives you a better idea of what stage of life your subscribers are at and what kind of products they could be interested in. This information can also be used for birthday emails.
Location
If this information is important for your business (for example, restaurant chain, physical store, etc.), you can send updates and offers from your customers' nearest venue and get them to visit your store. Location information also helps global companies identify users' time zones and send timely communication.
Gender
Information about gender can be useful for many companies, mainly those selling physical products such as clothing stores. Knowing this information, you can create simple personalisations and segment your audience. Although this is a basic personalisation, it can improve your relevancy by 50%.
2) Dynamic data
According to Gartner, 40% of businesses fail due to inaccurate data. Dynamic data is the opposite of static data that, after collection, remains the same. On the other hand, dynamic data continuously changes and is regularly updated to maintain its integrity. Circulator specialises in converting static into dynamic data and helps its clients to keep updated information and improve accuracy.
3) Behaviour
You can also track your customers' behaviour, including how they interact with your emails, the percentage of finalised purchases, spending habits, when they last logged in and so on. These are crucial pieces of information that can help you improve your email marketing efforts and overall commercial performance.
With Circulator, you can collect customer data and see it all in one place. Here's an example of what your database custom fields can look like:
4) Interests
You can easily predict what products and services your customers are interested in based on the pages they visit on your website and where they click in your emails.
You can read more in the section on email personalisation strategies and learn how to use the collected data effectively.
Why is email personalisation important?
Email personalisation primarily helps get insights into users' behaviour and preferences and send targeted and timely messages to your subscribers while keeping a personal touch. Relevance in email marketing is key. You want to send hyper-relevant messages to your subscribers to achieve the highest possible interaction, including open and click rate and higher revenue from your email campaigns.
Email personalisation strategies
1) Use anniversaries / birthdays
As mentioned previously, you can collect the information about the date of birth of your subscribers, possibly also about relatives (for example children). You can send an automated email wishing happy birthday and perhaps provide a discount as a gift. These emails have typically high interaction rate and help you build a positive and long-lasting relationship with your customers.
Here's a great example of a birthday email from Kaliedy: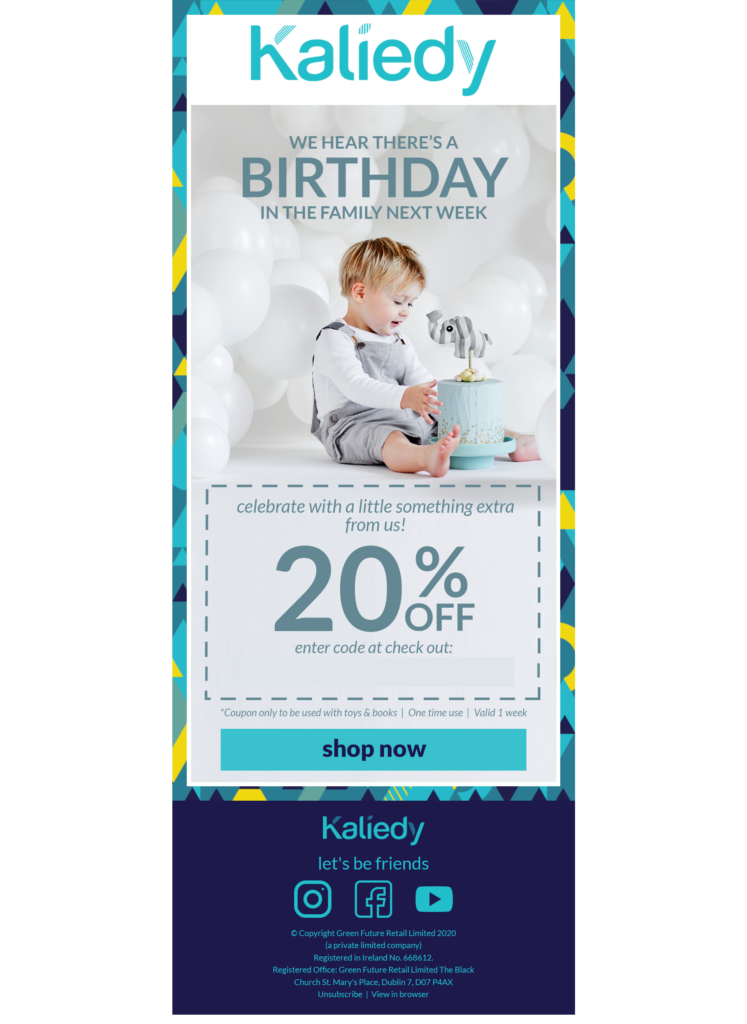 2) Segment your audience
Personalisation and segmentation go hand in hand. You can segment your audience based on the information you collect. That can be based on any criteria, including age, location, interest, interaction, purchasing habits and many more. You can also create marketing personas and identify the main groups of customers interacting with your business based on specific characteristics.
Here are several ways how you can segment your audience based on collected data:
Demographics
As mentioned previously, you can segment your audience based on age, location, gender, company, position, etc. This depends greatly on your business and the products and services you offer. However, for some companies having specific target groups, demographic information can be critical, and this simple segmentation can generate outstanding results.
Purchasing habits
This is a powerful segmentation strategy. You can segment your customers based on if they're one time shoppers or shop repeatedly, purchasing frequency, or the spending volume and target them more accurately.
Engagement
Determine how often and how individuals engage with your emails (opening, clicking on your emails, converting) and identify if they are potential leads or inactive users. You should target them differently and customise offers. When you have inactive users on your email list, it doesn't necessarily mean these are lost opportunities. You can create a personalised campaign encouraging them to re-engage with your business and eventually use incentives to increase chances of interaction.
Product interest
Segmentation based on product interest can benefit your business and significantly improve your targeting. You can either segment the audience based on website or email activity. Learn more about it in the following section.
3) Send offers based on customers' email interaction
When you track customers' email activity, you can find out what exact products they're interested in. Circulator provides clients with a link labelling feature that tracks where (what products / categories) users click in emails. You can build several groups of link labels and have them sorted into as many categories as you want. There are no limits.
When you build big enough data repositories, you can assign particular interest to each user and target them with messages that will offer them exactly what they're looking for.
Here's an example based on an email from Kaliedy: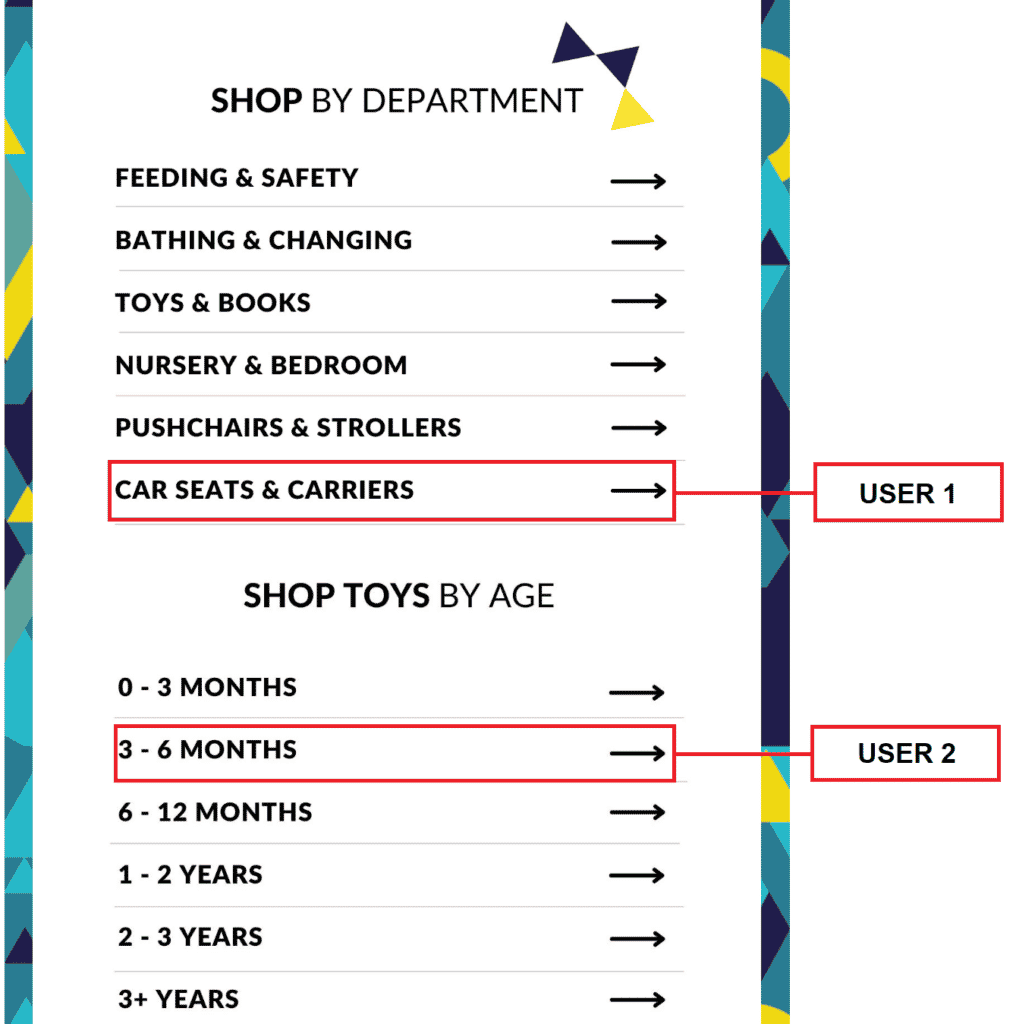 Kaliedy divides their categories based on children's age and departments. Let's say user 1 clicks on car seats and carriers and will be automatically assigned with this interest, so next time you can target that user with offers from this category. User 2 clicks on the age category 3 – 6 months, so they can be targeted with toys suitable for this age group in the next email.
4) Pay attention to customers' online behaviour
Users' activity on your website can also be vital for your email marketing success. If you enable users' behaviour tracking, you'll be able to see customers' browsing data. It allows you to track product page views and added items to shopping carts.
If users' don't purchase your products, you can retarget them with emails reminding them about the viewed products or abandoned items in the shopping cart. Circulator provides its clients with these powerful features that can recover around 10% of lost sales.
Here's a good example from Dote Shopping of using personalisation in cart abandonment emails: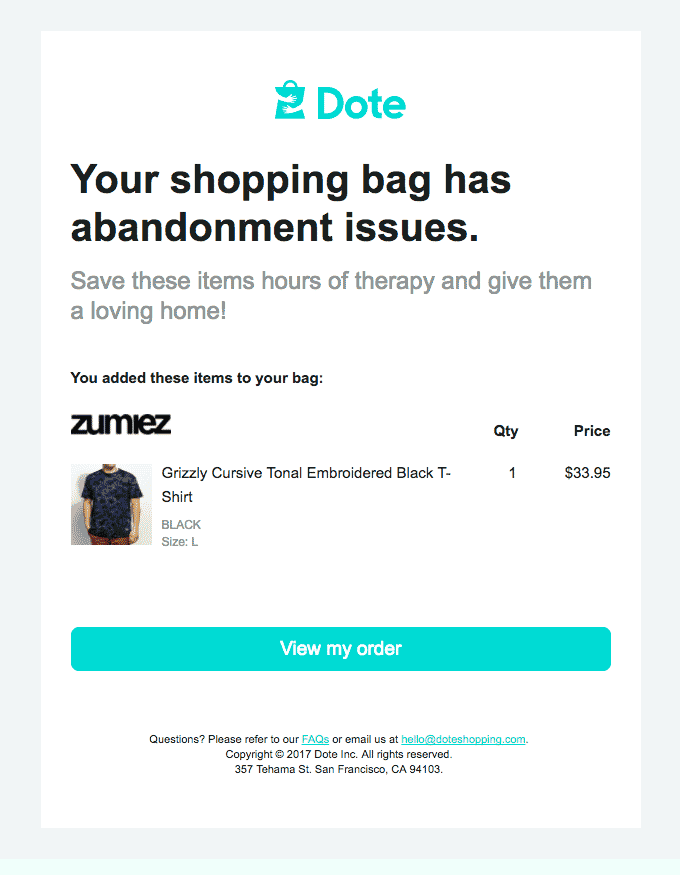 Source: Really Good Emails
You can also send specific product recommendations based on the pages users visited or products they bought in the past.
Here's an example from Returnly: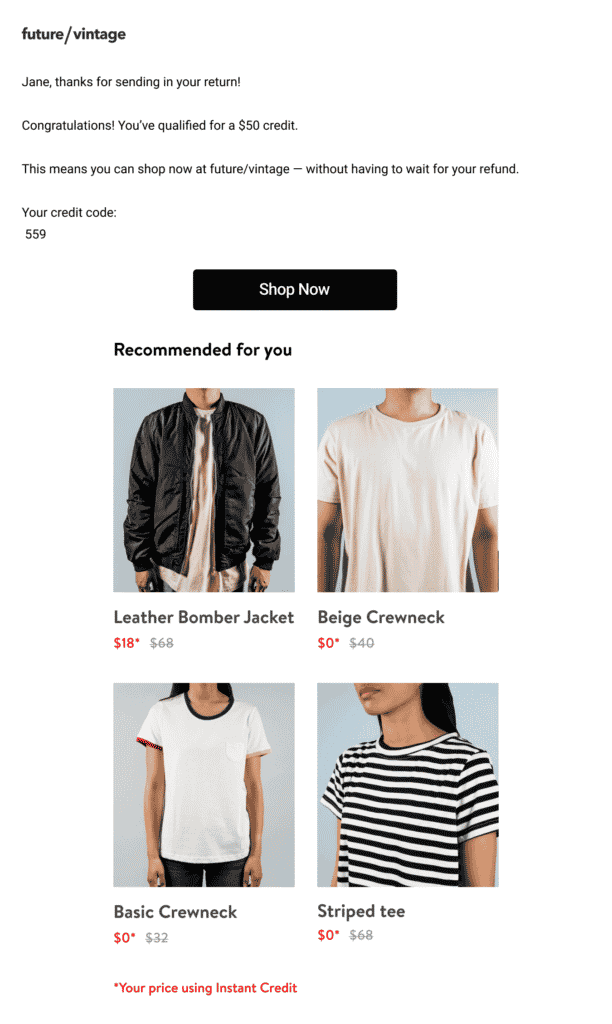 5) Use dynamic content
In short, dynamic content is an advanced feature in email marketing that changes the type of content based on your subscribers' preferences and behaviour. That includes text, subject lines, call-to-action buttons or visuals to target particular audiences with personalised messages.
6) Send your emails at the right time
Even people's personal habits can differ, including their activity during the day. People have different schedules, and their online activity and email checking might vary as well.
You should find when individual customers or subscriber groups engage with your emails the most and adjust your sending time accordingly. Personalised sending times can improve your open rates and customer satisfaction.
Circulator helps clients to create the most effective personalisation strategies, and offers many other custom solutions that your business can benefit from.
Please don't hesitate to contact us to find the right solutions for you.
You can also visit our blog for more email marketing and digital communication tips.