Best Tips For a Successful Email Campaign
Best Tips For a Successful Email Campaign
Are your email lists not working for you? Do you have low open rates? Or not getting enough conversion from your emails? Maybe you don't even know where to start to improve your campaigns. Well, here are soem of the best tips for a successful email campaign to help you get the most out of your email list.
Most of us have deleted, marked as spam, or ignored an email we received. Your email may be affected in this way, and you need to learn why. This may mean you aren't engaging your audience to the best of your abilities. Or perhaps your subject lines do not entice your audience to open them! or your call to action doesn't shout "Click me!"
Email marketing can be a very effective tool for communicating directly with clients and prospects so long as you do not spam your subscribers. Maintaining contact with your prospects keeps you top of mind and strengthens client relationships. Now let's look at how you can improve your efforts. Firstly, let's discuss the various kinds of emails you can send:
Marketing emails
Usually, these are messages that inform or promote to those who have requested to be kept up to date with your company, such as customers, employees, reporters, vendors, affiliates, etc. Marketing emails include newsletters, sales promotions, announcements, press releases, and follow-ups.
Transactional emails
This type of email is usually automated and triggered by your customers' activities. Examples of transactional emails include welcome messages, order tracking, received payments, registration confirmations, etc.
Don't underestimate the potential of these messages. If you've sent a customer a transactional email, they've completed at least one action that indicates they're very likely to engage with you again. These are trusted emails, which means they have higher open rates and provide plenty of opportunities for engagement and cross-selling.
Operational emails
These are emails that include critical information about your company, such as holiday closures, maintenance schedules, or changes to service availability.
It's easy to ignore an operational email if you believe it won't have an impact on sales, but consistency is crucial for building trust, engagement, and thoroughness.
These emails can have hidden value. They may be tailored to boost your sales and image, even if they appear to be simply informative. If your service is going down for maintenance, for example, explaining the types of changes you'll be making is a fantastic approach to remind your customers of the value you give.
It's imperative that you structure your message and strategy based on what you're trying to achieve when sending emails. Here are some email marketing tips that guarantee success:
1. Building a relationship with your subscriber list
This plays an important role in your Email marketing strategy. Email has become a way of reaching out to your audience on a personal level, but are you taking the right steps to ensure that they keep coming back to reading your emails? One way to ensure this can be in the form of a welcome email with a discount code or a simple confirmation email that we have added you to our newsletter list. Whatever the case may be, it is the first step to setting the tone and building a relationship with that user.  This ensures that you have a user that actually wants to receive your emails.
By doing this, you have the chance to give them a taste of what to expect from your emails, and how they will bring value to their lives. As an added bonus, you can instruct your subscriber to do things that will increase the chances of your email campaigns landing in their inbox. For example, have them add your email address to the safe sender list. Maybe ask Outlook users to drag your email into the Focus tab, Gmail users to drag your email into the Primary tab or Apple users to add you to their VIP list or "Insert email client" to….you get that point. Many people underestimate this step and overlook it, but this gives you the best chance of getting your emails where you want them to be.
Here's an example from Smyths Toys of what a welcome email can look like: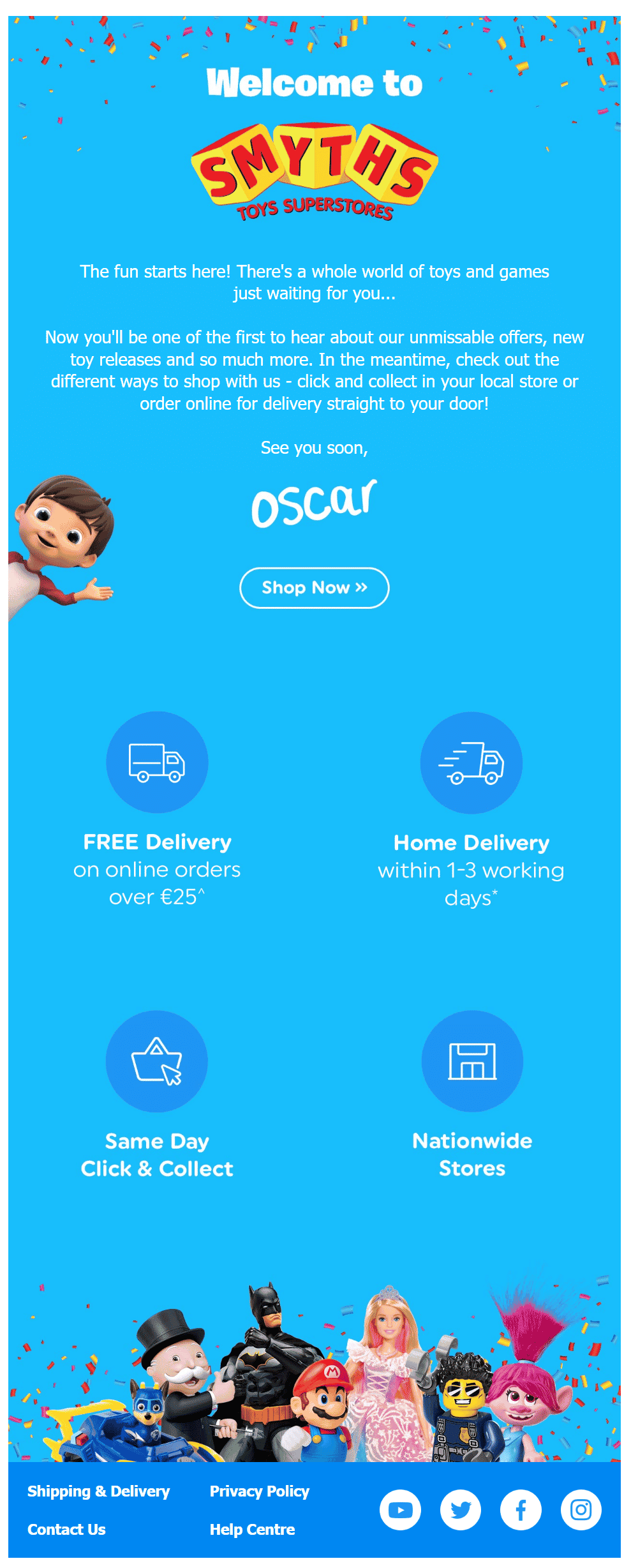 2. Make your subscribers curious
There is nothing rocket science about this tip, but it's crucial for success. To successfully use email marketing, people need to be convinced that your email is worth opening.
In my experience, the shorter and more straightforward the subject line, the better. Simply use the title of the content you're promoting as the subject line, if the headline is intriguing. This may not be the best approach all the time.
Let's say you're promoting an article you published on your blog. If you make your subject line the title of the article, this means that when they open your email, they'll be met with the same title in the body of the email, which is repetitive. But if you pull the most shocking statistic or fact from your article and make that the subject line, then readers will be enticed to find out more. Then boom, there's the equally enticing title of the article. Now they've got to click through to your site.
Another good way to grab readers' attention is to play with their expectations. For example, Foundr Magazine recently sent out an email with the subject line, "How to get more done by taking a nap." Now there's an intriguing idea that I would like to learn more about. And put it into practice.
Based on Sumoapp's research, here's a list of the top 5 subject lines with the highest open rates:
| | |
| --- | --- |
| Subject Line | Open Rate |
| 1. I was right – and that's not good for you | 69% |
| 2. 13 email marketing trends you must know | 64% |
| 3. Before you write another blog post, read this | 61% |
| 4. Are we still on for 12? | 61% |
| 5. You don't want FOMO do you? | 60% |
You've probably also noticed more brands sending out emails with emojis in the subject line. According to Campaign Monitor, brands that use emojis in their subject lines have seen an increase in open rates of 45%. But be careful not to overdo it and definitely don't use them if the content of the email broaches a serious topic.
Here's a good example of using emojis from Kaliedy:

At Circulator, we specialise in digital customer communication and email marketing and help companies grow. Learn more about our products and services and how we help our clients build effective email campaigns and achieve the best mail marketing results.
Please contact us directly to get help with your digital communication efforts. Our team of experts will be happy to assist you.